Why Choose Nu Body Of Dallas?
Nu Body of Dallas' staff has over 14 years of experience in the industry and can provide you with the safest and most effective treatments.
Nu Body of Dallas takes the time to educate you how the laser works and what to expect during and after your laser hair removal treatments.
The goal of Nu Body of Dallas is to provide highly specialized laser hair removal services for both men and women. Our objective is to establish a close personal relationship with you in order to provide the best possible care. Continuity of care and consistent communication are essential. At Nu Body of Dallas, we take pride in the proprietary treatment protocols we have developed that allow us to maximize results and offer you the most comfortable treatment sessions anywhere. Your safety, comfort and satisfaction are our number one goal.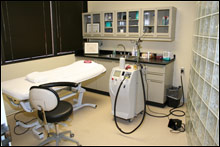 We are constantly striving to improve the quality of our services and as a result, are one of the few centers actively engaged in on-going training and development in the area of laser hair removal. Our on-going quality control assures that every aspect of our practice is the best it can be starting from the hands on use of the laser to the types of post-laser lotions, gels and creams we use for after-care. Every product we use is tested for efficacy and safety.
The results of your treatment and the condition of your skin during and after treatments are of the highest priority.
At Nu Body of Dallas there are ….
There Are No Packages To Buy
No Contracts To Sign
No High Pressure Sales Job
No Maintenance Packages
No Touch Up Packages
We have several clients who were treated somewhere else and had up to 30 treatments, with almost no results!
One gentleman actually spent over $11,000…Buying Packages after Package!
Laser Hair Removal is not the same everywhere!
There are different lasers….And they give very different results…
Nu Body o f Dallas has over 13 years experience in the industry, and when experience matters call.
Nu Body of Dallas: 972-248-BODY (2639)

Charles Wallace, M.D.
Dr. Wallace is a native of the Dallas area and been in private practice for over 15 years. After is a graduate Cum Laude from the University of Texas at Austin, he attended the University of Texas Southwestern Medical School in Dallas. Dr. Wallace completed his General Surgery Intership in the Development of Surgery at the University of Hawaii in Honolulu. He served as General Surgery resident at Baylor University Medical Center in Dallas, training an extra year in hand surgery with the Lankford, Zehr, Dibella group at Baylor.
Dr. Wallace completed his training in plastic and reconstructive surgery under the auspices of the prestigious Cronin, Brauer Biggs Clinic at St. Joseph's and M.D. Anderson Hospital in Houston. After completing residence requirements, Dr. Wallace trained in surgery centers in Switzerland, France, England, Norway and Germany to broaden his knowledge in the art of plastic surgery.
Dr. Wallace is Board Certified by the American of Plastic Surgery and is an active member of the American Society of Plastic Surgeons. He is also an active member in the American Medical Associations, the Society of Baylor Surgeons, the Cronin and Brauer Society, The Dallas Society of Plastic Surgeons, and the Texas Society of Plastic and Reconstructive Surgeons. He also has been elected to Fellowship in the American College of Surgeons.